Heads-Up Drone Piloting:

AiRScouter for UAV/Drone Pilots
Fly your unmanned aerial vehicle (UAV) in first-person view (FPV) without taking your eyes off the sky. See real-time video while you follow FAA Part 107 regulations on visual line-of-sight (VLOS).
Applications for UAV/Drone Pilots
Promote Safer Operation During Critical Missions
Better situational awareness promotes safer operation. Here a search and rescue unit relies on a UAS program for life-saving public safety missions . AiRScouter provides telemetry to the pilot and helps him communicate with his team.
Watch Your Drone While You See What It's Filming
Keep an eye in the sky and follow FAA Part 107 regulations on visual line-of-sight (VLOS). Here two drone operators show how easy it is to see what they're filming with AiRScouter. It helps them push boundaries without compromising safe operation.
Fly Safely, Even During Fast-Paced Video Shoots
It's crucial to know where your drone is when things are moving fast. Here an aerial cinematographer captures stunning imagery during intense drift competitions. AiRScouter helps him keep an eye on the action without losing his shot.
Get Your Data While Your Keep an Eye on Your Work
Make sure you get the right data without taking your eyes off the sky. Here a commercial UAV operator works in close quarters during a bridge inspection. AiRScouter lets him review his footage in real-time while keeping both eyes on his drone.
Explore Features That Keep Your Drone Flying
Place the display where you want it, over either eye. Water- and dust-resistance helps you work in dirty or wet conditions.1 HDMI or SDI inputs connect to your gear without special apps of hardware.2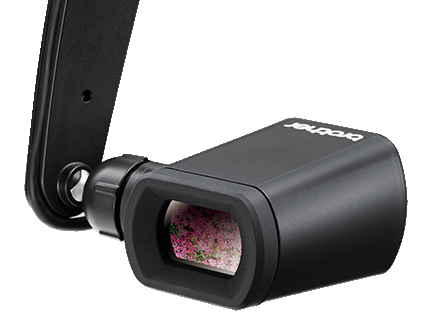 AiRScouter for Camera Operators
Get the shot with comfort and ease when you take your viewfinder off the camera and put it on your head.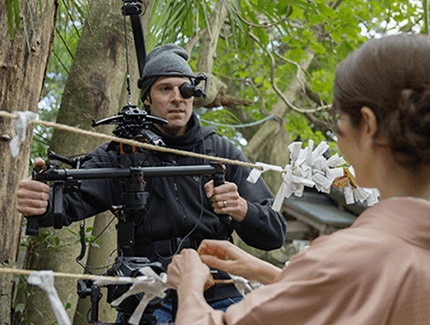 Legal Disclaimers
The ingress protection rating is for the head display unit only. Please take appropriate precautions when using the control box in inclement conditions.
See product detail pages for supported video inputs, power options, and available features for each model.