Introducing our New AMR Design
Introducing our new, compact gearmotor for Autonomous Mobile Robot (AMR) applications. It's everything you need and everything you want in a Brushless DC Gearmotor.
Looking for a compact and light gearmotor for your AMR with an industry leading 5-year limited warranty? Meet Brother's NEW AMR Gearmotor.
Brother Gearmotor Five Year Limited Warranty
Brother Gearmotor delivers the ultimate peace-of-mind by offering an industry leading warranty: a full five years on our entire line of standard products.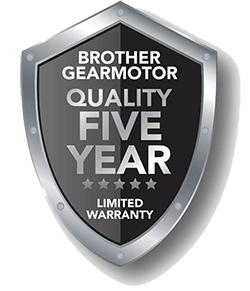 Product Configurator
Find your Brother Gearmotor by searching for specific product attributes or part numbers.
Fill out this form for more information or call us at 866.523.6283
to try out a sample AMR gearmotor.
Gearmotor Resources
Get expert insights on how to help increase operational efficiency and cost effectiveness with our Gearmotor catalogs, brochures, and marketing materials.