What will you create today? Make it your own with P-touch Embellish Ribbon and Tape Printers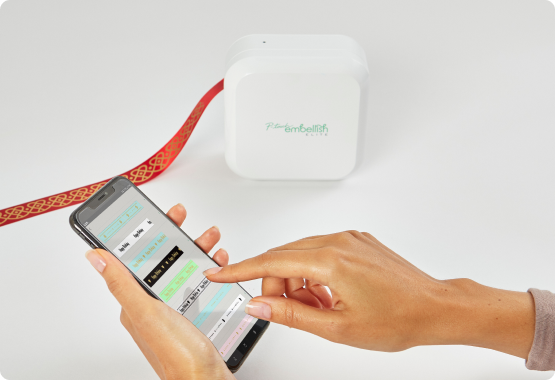 Connectable decorative ribbon & tape printer
Variety of satin ribbon and decorative tape options up to ~1 inch (24mm) wide
Wirelessly design from your smartphone or tablet
Inspiring collection of craft templates, fonts, patterns, symbols and emojis available via smartphone, tablet, or PC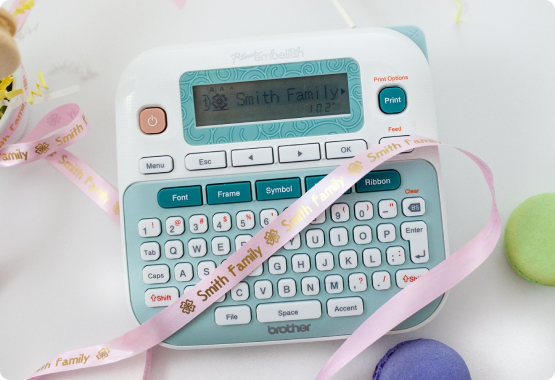 The classic ribbon and tape printer
Dozens of satin ribbon, decorative and washi tape options up to ~1/2 inch (12mm) wide
Lightweight, compact, self-contained
90+ decorative and 20 continuous frames, 15 initial marks plus 14 fonts, 400+ symbols, and emojis and 25 patterns built in
Embellish Satin Ribbons, Washi, & Decorative Label Tapes
Satin, patterns, washi oh my! It's time to let your creative side run wild.
Get Inspired
Wonderful ideas to get your creativity flowing!
Follow us for more P-touch Embellish ideas
P-touch Embellish Satin Ribbon & Tape Guides
Select a color & length to find a specific tape.
**Colors in chart may vary slightly from actual tape**
Standard Embellish Ribbons
Embellish Decorative Tape
Find your P-touch label maker and supplies
Legal Disclaimers
Labels shown are for illustrative purposes only. Actual output (such as fonts and margins) may vary.