Print Management Solutions
Brother print management solutions can help with monitoring departmental printing costs while maintaining document security and reducing print waste levels. Our customizable and scalable paper-handling accessories simplify advanced print configurations and maximize print quality output, helping improve productivity across the business.
Features
Brother print management solutions allow for effective print management of a business' environment through a number of device features and functions. From optimized workflows to advanced security, these features include: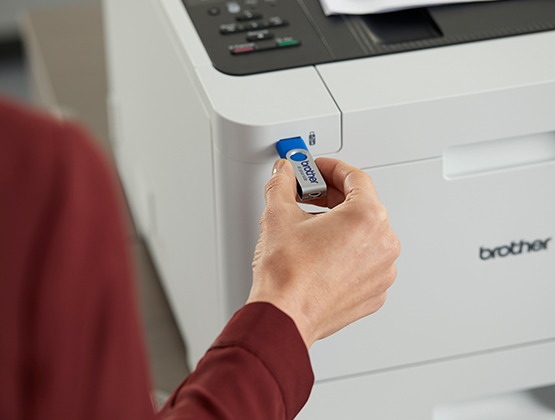 Secure Function Lock - Built-in solution that prevents access to device settings and functions, along with page limits/restrictions for mono and color printing
Active Directory Print Release - Print data is held in the machine's memory and released when users enter their Active Directory sign-in information
Secure Print - Ensures that confidential or sensitive documents do not print until the user enters a PIN on the machine's control panel
IPPS - Network Internet Printing Protocol that uses SSL for communication between devices and printers
Print Emulations - Receive print commands in a printer job language or emulation
Print Profiles - Customizable print shortcuts for the most commonly used print configurations
Custom Output Settings - Select from a range of pre-defined and user-customizable print settings
USB Direct Print - Print directly from a USB flash drive
Carbon Copy Print - Alternative to dot matrix carbon copy printing on a Brother laser machine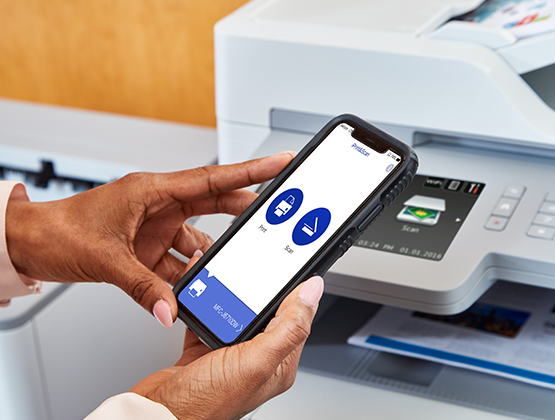 Mobile Device Support
Whether on the road, at a customer site or in a retail storefront, Brother offers a wide range of printing and scanning solutions to help improve workgroup productivity and efficiency – virtually whenever, wherever. These include:
AirPrint® - Wirelessly print from AirPrint-compatible apps via any iOS device connected to the same network segment as the printer.
Mopria® Print - Wirelessly print directly from any supported AndroidTM device connected to the same network segment as the printer.
Brother iPrint&Scan - Downloadable app that allows a user to wirelessly print from and scan to an Apple® iPhone®, iPad®, and iPod Touch®, Android™, and Kindle Fire™.
NFC (with Brother iPrint&Scan) - Easily establish a wireless connection between an NFC-enabled mobile device and Brother NFC-enabled machine to directly print from or scan to mobile device.
Wi-Fi Direct® - Allows a user to configure a wireless network between a Brother machine and a mobile device that supports Wi-Fi Direct.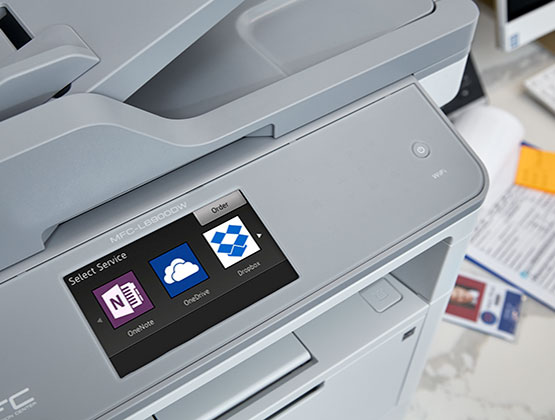 Cloud Services
Access the cloud without a computer using the award-winning Brother Web Connect to upload scanned documents or to print documents directly from an online storage site. Among the supported services included2:
Google Drive™
Evernote®
OneDrive
OneNote
Dropbox
Box
Brother Cloud Apps
Brother Cloud Apps is a free suite of innovative, cloud-based applications accessed directly from compatible, Internet-connected Brother devices that allow you to capture and convert information directly from your machine – without using a computer. Features include:
Cloud Secure Print

- Enables password-protected printing over the Internet without using a printer driver.

Attach/Email/Print

- Enables printing via email over the Internet without using a printer driver.
Paper Handling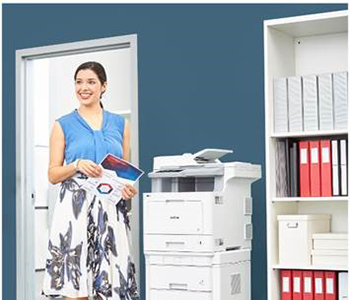 Add optional lower tray(s) to a compatible model to increase input capacity or to automatically print on mixed paper type and size documents, or multiple paper size documents, with automatic printing up to legal-size. Increase productivity by reducing time-consuming tray refills.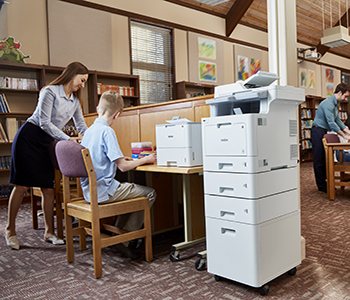 Add cabinet to help turn the machine into a floor standing configuration for better device access.
Print Management Partners
Brother has partnered with numerous technology vendors to help facilitate print management, including monitoring departmental printing costs.
Value Services & Custom Solutions
From enhanced collaboration to increased document security, Brother Value Services and Custom Solutions feature an expanded portfolio of personalized service and solutions offerings designed to meet the needs of mid-to-large size customers. Inclusive of customization and integration capabilities, this suite of solutions helps to resolve unique document management challenges and meet critical business requirements.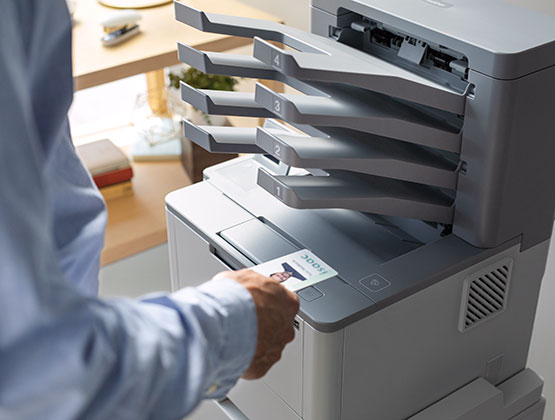 Secure Print +
Ensures that confidential or sensitive documents do not print until the user authenticates by entering a PIN or via an NFC card on the machine's integrated NFC card reader.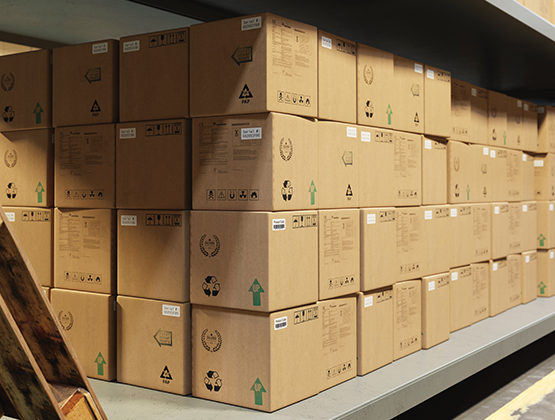 Barcode Print +
Print barcodes on demand from a software application without a dedicated barcode printer.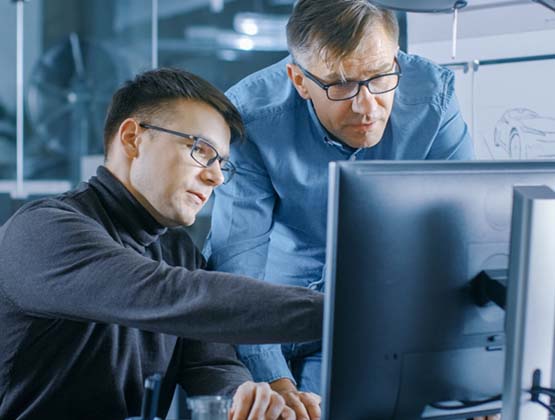 Printer & Scanner Interface
Enables third-party developers to build custom solutions for and integrate with Brother machines. Easily create customized solutions via a web services-based platform to integrate with existing workflows for added capabilities, improved workflows, and increased security.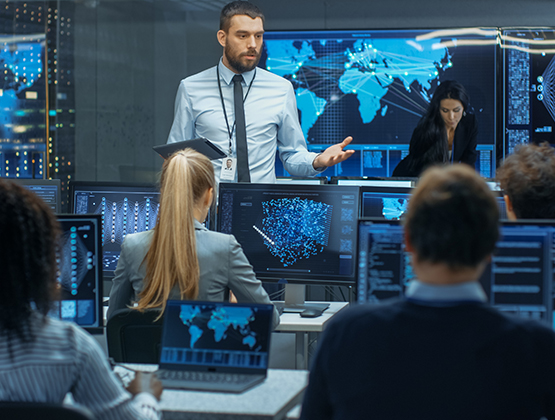 Special Solutions Team
The Brother Special Solutions Team (SST) assesses a business' unique needs and develops customized solutions to meet those needs.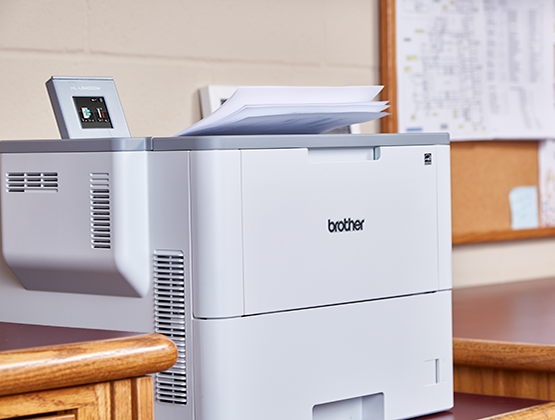 ThinPrint Client
ThinPrint offers efficient print job transmission by compressing the print job at the server. Compression helps control bandwidth for printing and application working speed, regardless of the number of people using an application.
Contact Brother Sales & Support
Have questions regarding our business products, workflow solutions, and professional services?
Legal Disclaimers
All referenced trademarks and registered trademarks are the property of their respective companies. Apple, AirPrint, iPad, iPhone, and iPod Touch are registered trademarks of Apple Inc. Evernote is a trademark of Evernote Corporation and used under a license. Android, Chromebook and Google Cloud Print are trademarks of Google LLC. Mopria® is a registered trademark of Mopria Alliance, Inc. in the United States and other countries. Unauthorized use is strictly prohibited. Wi-Fi Direct®is a certification marks of Wi-Fi Alliance®.
Requires Internet connection and an account with desired service.